Need perfect Mac & PC barcode software?
Easy Barcode Creator makes pro-grade vectorized barcodes for every purpose. Type the numbers, customize, save. It's easy. So easy, we put it in our name.
Make any kind of standard barcode. Our Mac barcode generator (works with PCs, too!) supports all the standard types. It looks and works perfectly 'cause this is what we do, son.

Change the settings, push the buttons. We have all sorts of buttons to change little details and get that perfectly legit pro look.
Save it. Our 100% vector EPS barcodes don't need fonts, work in all your favorite design and print apps, and look + work right in every way (unlike, ahem, our super shady competitors).
When you're ready to make all the barcodes for your product, box, book, client... whatever... make it with Easy Barcode Creator.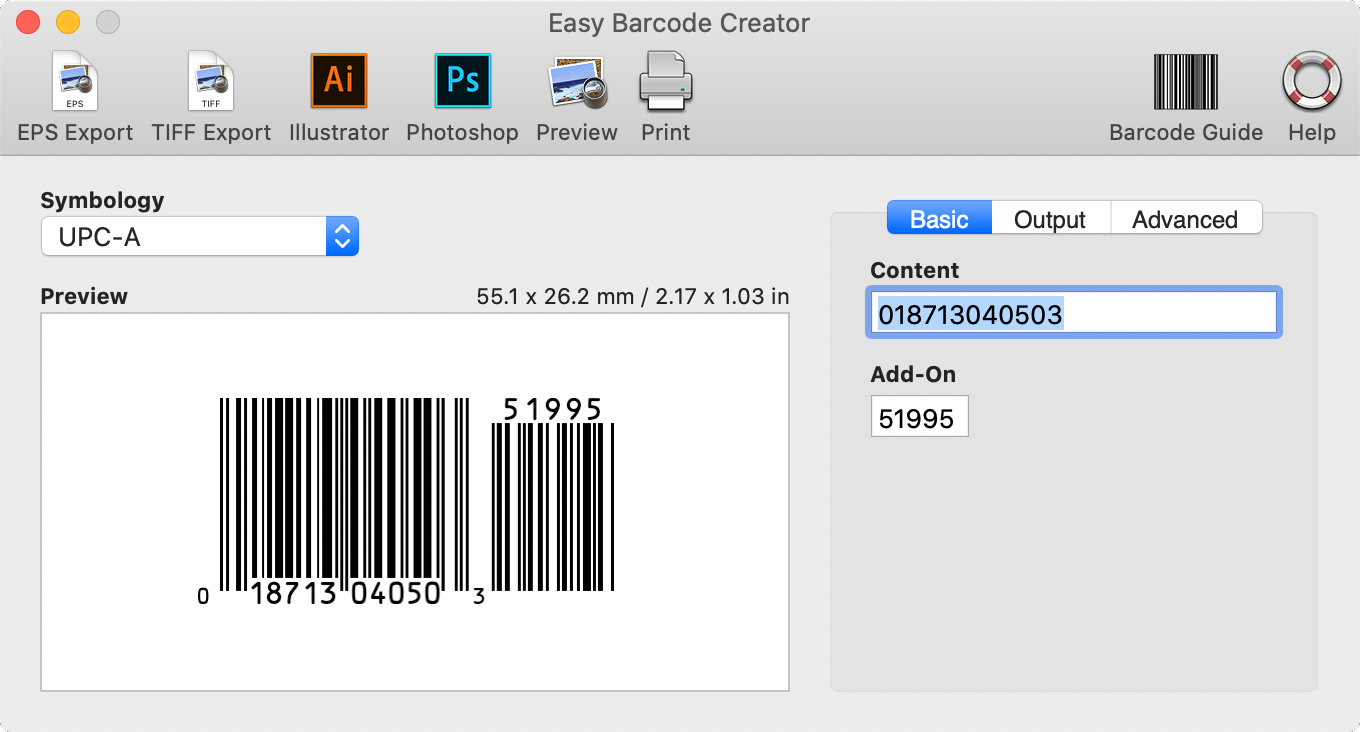 Standards ready.
Easy Barcode Creator supports industry bar code standards like EAN, ISBN (Bookland EAN), UPC, I2of5 (Interleaved 2 of 5), Code 39, Code 128, EAN-13, UPC-A, GS1-128. All the acronyms.
Create barcodes in all standard industry formats
Send to Adobe programs, save as a vector EPS, or save a TIFF image for use in virtually any app like Microsoft Word.
Customize barcodes with color and text changes.

No fonts required – outlined, integrated OCR characters mean your barcodes have no dependencies or printing issues.

Download a demo of our barcode software for Mac or Windows PCs, try it out, then buy a license for instant digital delivery. It's that easy.
Makes it easy.
Easy Barcode Creator is a one-time purchase – no need to fuss with subscriptions and expensive fees.

Everything you need, nothing you don't. Easy Barcode Creator sits between the high-end fancy barcode apps (like Barcode Producer) and the $20 apps that make invalid, unscannable barcodes and look like they were made 20 years ago.
Say no to plug-ins. If you're looking for a barcode generation plug-in for Illustrator, InDesign, and Photoshop – consider Easy Barcode Creator instead. A single button gets your barcode into Adobe apps, and a standalone app doesn't break with new Adobe releases.
Comprehensive help. Need help with Easy Barcode Creator? We're here for you with fast support and extensive documentation.